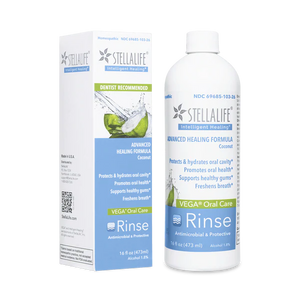 Overview 
The DENTAL ADVISOR gives the StellaLife® VEGA® Oral Care high rating.
DRY MOUTH: Offers relief. Hydrates and moisturizes.*
FORMULATED FOR SENSITIVE MOUTH: Promotes oral health and healthy gums/teeth. Great for daily use.*
MICROBIOTIC THERAPY: Reduces bacteria that cause periodontal disease. Recommended by THE DENTAL ADVISOR.*     
PROTECTIVE & HEALING: Combined use of the VEGA Oral Care Gel and Coconut Rinse (nine active ingredients) offers many additional benefits like temporary symptoms relief of dry mouth and ulcers caused by mucositis, chronic inflammatory and autoimmune conditions of the oral cavity, daily medication, chemo, and radiation treatments.*
NATURAL: non-staining, organic ingredients, sugar-free, non-toxic.*
StellaLife VEGA Oral Coconut Rinse is a natural, antimicrobial product that has been formulated to hydrate the oral cavity, promote healthy gums, maintain oral health, and freshen breath. The patent-pending rinse supports healthy healing following oral surgery and periodontal treatment. The rinse is specially formulated for a patient with a sensitive mouth. The rinse is also uniquely designed for patients undergoing chemo and radiation treatments and patients with various oral cavity inflammatory conditions. 
Recommended and used by Dental Advisor, Dental Products Report, and dental professionals.*   Made in the USA.

16 fl oz (473 ml)
* Claims based on traditional homeopathic practice, not accepted medical evidence. Not FDA evaluated. Individual results may vary. This material is for general information only and is not intended to be a substitute for professional medical advice, diagnosis or treatment. Read the labels before using.