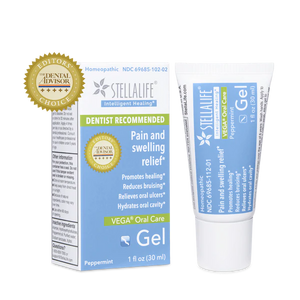 Overview 
Uses Temporarily:
PAIN SWELLING RELIEF: Dry socket, canker sore, mouth ulcers, dry mouth, cold & denture sores, braces/Invisalign, mucositis, Lichen Planus.*
PROMOTES HEALING: Reduce or eliminate the need for opioids and steroids after dental surgery or procedure (StellaLife Gel & Rinse).*
EDITORS' CHOICE AWARD: highest distinction given by The Dental Advisor (96% clinical rating, 5 stars). Dentist recommended.*
NATURAL: non-staining, organic ingredients, sugar-free, non-toxic.* 
StellaLife® VEGA® Care Gel is a revolutionary new technology formulated to accelerate healing, relieve pain & reduce swelling after dental procedures. Doctors have found it effective in the management of dry sockets, canker sores, braces/invisalign, mucositis, angular cheilitis, cold sores, dry mouth, sores associated with dentures, and more.*
StellaLife® VEGA® Oral Care Gel ranked at the top with the Editors' Choice Award (96% rating, 5 stars by the Dental Advisor                                        
"Two StellaLife products were recently evaluated by the DENTAL ADVISOR. Both products are rated very highly, with StellaLife VEGA Oral Gel really shining for several aspects. Due to its unique properties, the product was awarded Editors' Choice, the highest distinction given by the DENTAL ADVISOR."     - -  The Dental Advisor
An independent, non-profit, dental education and product testing foundation the Gordon J. Christensen Clinicians Report®,  October 2020:  "71% of 31 CR Evaluators stated they would incorporate StellaLife VEGA Oral Care into their practice. 90% rated it excellent or good and worth of trial by colleagues". "Reduces pain from oral lesions and dry sockets; reduces swelling and inflammation; promotes healing". 
Recommended and used by the Clinicians Report® , Dental Advisor , Dental Products Report (top 5 take home products) and dental professionals.*   Made in the USA.
1 fl oz (30 ml) 
* Claims based on traditional homeopathic practice, not accepted medical evidence. Not FDA evaluated. Individual results may vary. This material is for general information only and is not intended to be a substitute for professional medical advice, diagnosis or treatment. Read the labels before using.